09 Апреля 2019 г. 17:28
Developing cooperation with the Eurasian union is consistent with Cuba's strategy aimed at diversifying its economic links – Cuban expert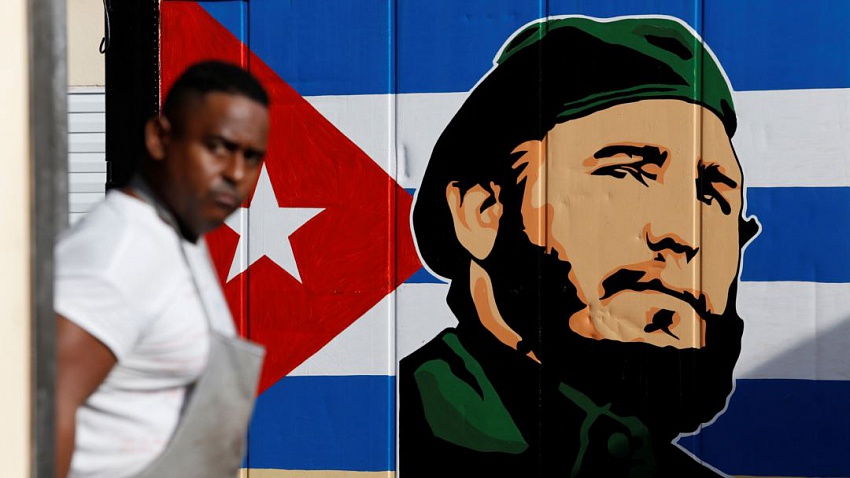 The cooperation of Moscow and Havana which studied in the USSR era is rapidly developing today, and not only in the field of economics, but also in defence and aerospace spheres. Recently this list has also been expanded by communication technologies: Cuban and Russian officials signed a memorandum in the field at the end of March. Professor of economics and Cuban economy with the Center for the Study of the Cuban Economy at the University of Havana Ricardo Torres says that it's in Cuban interest to develop relations not just with Moscow, but with the Eurasian Union as a whole.
- Mr. Torres, as you know, the Memorandum of Understanding in the field of telecommunications was signed by Deputy Minister of Digital Development of Russia Mikhail Mamonov and Minister of Communications of Cuba Jorge Luis Perdomo on March 26 in Havana in the presence of journalists. How do you assess Russian-Cuban relations today? What is the turnover?
- I think Russian-Cuban relations are excellent today. The two countries share similar views on important areas of international relations, specifically opposing hegemonic stances by the United States. Economic cooperation has increased in recent years with Russia now participating in several high impact projects in steel-making, power generation, and transport. Cooperation has also expanded to higher education and telecommunications. Cuba is also sourcing some volume of oil fr om Russia. The country has become on the key tourism markets for the island and one of the fastest growing in the last five years.
- In your opinion, in what areas should Russia and Cuba develop cooperation? Wh ere is the potential for developing bilateral cooperation?
- The potential for advancing mutually beneficial exchanges is enormous. As Cuba needs to diversify its external links, Russia can become an interesting partner. Even though Cuba has a limited export capacity, it would like to see more Cuban products entering Russian markets in the future, for instance, in the area of biotechnology.
However, if the relationship is to become sustainable Cuba will need to pay more attention to developing its own economy and new sources of export revenues.
This is key to avoid past schemes that reproduced dependency and little incentives to advance competitiveness from the Cuban side. In that sense, an area of growing attention could be investment by Russian companies in emerging industries in Cuba. For that to happen, Cuba needs to continue upgrading its investment and business climate.
Even though Russia has its own interests and Cuba is seen as an ally, Russian companies compete on the global scale so there would not be any preferential treatment.
- On February 6-8, the delegation of the Eurasian Economic Commission visited Havana to discuss further cooperation between Cuba and the Eurasian Economic Union. How do you assess the prospects for such an interaction? Is it possible to create a free trade zone (FTA)?
- I believe that was a first necessary step towards developing mutually beneficial cooperation, and it's consistent with a Cuban strategy aimed at diversifying its economic links. It is still too early to say how far cooperation would go.
For Cuba attracting foreign investment is also important. Russia and Kazakhstan both have strong energy sectors and that is a priority for Cuba.
A FTA would be an issue once potential for growth has been established.
- In your opinion, what can Cuba export to the markets of the countries of the Eurasian Economic Union?
- Cuba lacks a strong export sector. I think the most promising areas are tobacco, rum, pharmaceuticals and medical services. Cuba could source some raw materials and equipment.
- How do you assess the current level of economic relations between Russia and Latin America?
- Latin America has not been a traditional zone within Russia's global aspirations with the probable exception of Cuba during the Cold War. Relations between Russia and most left governments in Latin America warmed up during the last 15 years, notably with Venezuela, Cuba and Nicaragua. Ties with Brazil expanded under the BRICS group, but it was more about Trade is still modest by the size of the two economies. Both sides emphasized the need to reduce American influence. But there is still a long way to go before relations become strategically important. Investment and greater coordination in multilateral gatherings could be an area of focus in the coming years.
However, new governments in the region are more skeptical about advancing relations with Russian as they prioritize links with the United States.
- How are economic ties developing between Cuba and China? What projects is China implementing in Cuba? What is the trade between countries?
- Ties between Cuba and China and strong and diversified. China is already Cuba's second largest trade partner after Venezuela. Cuba just signed up for the Belt and Road Initiative during the visit of President Díaz–Canel to Beijing in November 2018. However, Chinese investment in Cuba is very small.
Cuba needs to step up efforts to make sure financial obligations with China are honored in due time and improve its investment and business climate to attract larger amounts of Chinese capital.
Barring nickel, Cuba is not rich in natural resources and cannot become and export platform to the United States, so those are constraints to further advance economic relations. Trade expansion is limited by the lack of export supply and foreign exchange from Cuba.