21 августа 2020 г. 18:29
India is Interested in Building Submarines with Russia – India expert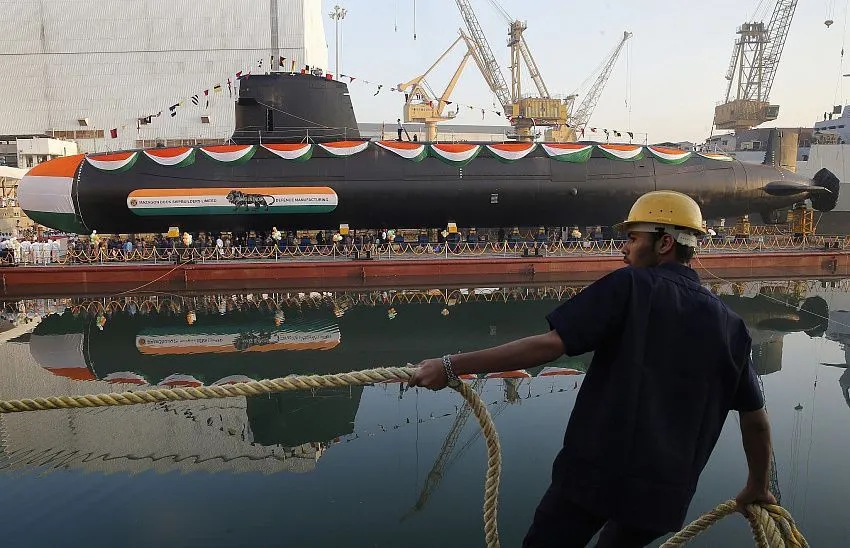 In August 2020, India announced a wide seven-year ban on the import of foreign weapons: 101 items of weapons of various categories will fall under it. In New Delhi's view, this will be "a big step towards self-reliance in defense." Meanwhile, by the end of 2019, the volume of Indian-Russian military-technical cooperation exceeded $15 billion, which put India into the top three of Russia's partners in this industry. In an interview for Eurasia.Expert Shoaib Khan, a researcher at the Center for Central Eurasian Studies at the University of Mumbai, analyzed how these relations will be affected by the new ban.
– India will ban the import of foreign weapons for the next seven years. There are 101 items in total. What are these weapons and what prompted India to make the decision?
– Announcing the move, Indian Defense Minister Rajnath Singh called it a big step towards self-sustaining defense production in line with Prime Minister Narendra Modi's 'Atmanirbhar Bharat' or 'Self-Sufficient India'. At the same time, it is emphasized that this independent policy does not seek to be protectionist.
The list includes weapons such as artillery, assault rifles, corvettes, sonar systems, transport aircraft, ammunition, radar stations, diesel-electric submarines, communications satellites, and ship-based cruise missiles. A total of $53.4 billion worth of weapons and military equipment samples from the list are to be produced in India with the participation of local companies as prime contractors.
The ban is not the result of a sudden outbreak of pacifism. It is intended to ensure that India's military, the second largest on the planet with 1.44 million personnel, exclusively procures those weapons from factories in India.
Many of the bans apply to equipment already available from Indian manufacturers, and in several cases the import ban specifies systems like the Tejas jet fighter and Astra missiles only built in India. This means that some may see the ban as a political stunt, reflecting domestic procurement decisions made well in advance. However, in a few cases the ban does seemingly lock out foreign competitors from ongoing procurement decision, and some later-imposed bans relate to domestic projects that may not yet have completed development.
– Which countries mainly supplied weapons, the import of which will be prohibited in the coming years?
– The move will affect purchases from major arms suppliers such as the U.S., Russia and Israel worth billions of dollars in the coming years, if the country achieves targeted domestic production.
According to the Stockholm International Peace Research Institute, India was the world's second-largest importer of arms in the 2014‑2019 period, after Saudi Arabia. During the period, India bought $16.7 billion, 9.7% of the world total. Russia supplied 55% of India's imports, while the U.S. and Israel made up 14% and 12% of the total, respectively.
Traditionally, India has been an arms importer. But the government led by Prime Minister Modi, who took office in 2014, has been pursuing greater domestic manufacturing under the slogan "Make in India". The defense industry has been included in the scheme to boost production of defense equipment and arms in India.
In the latest move toward defense self-reliance, imports of small arms and light machine guns from Israel, super-rapid 76mm naval guns from Italy, and AK-74 assault rifles from Russia will be stopped. Russian imports will be hugely impacted under the artillery section as India plans to begin manufacturing 122mm Grad rockets by 2022 and electronic artillery fuses and bi-modular charge systems by 2024.
– How will such a decision affect military cooperation between Russia and India in the future? Will this lead to a decline in the level of military cooperation between the two countries?
– India has long primarily relied on weapon systems imported from the Soviet Union/Russia, Western Europe and Israel, with U.S. systems gaining in importance in the last two decades.
India's armored forces are primarily composed of thousands of Russian-origin T-72 and T-90 main battle tanks, and upgraded BMP-2 Sarath infantry fighting vehicles. There are also around 124 indigenous Arjun main battle tanks, with 118 of an improved model on order. These will remain in service for a while yet, and in 2019 India paid Russia $1.2 billion to license-build 464 more T-90s in India. However, the new rules do ban imports of 120-, 125-and 30-millimeter shells used by the main guns of Indian Army tanks and fighting vehicles, suggesting confidence in the domestic manufacturing capacity for these munitions.
Russia is still one of the main players in the Indian arms market. Russian-Indian military-technical cooperation has been going on for about six decades.
As for the prospects of cooperation, Moscow intends to intensify the existing trend of transition from the paradigm of relations exclusively seller-buyer to a more inclusive, industrial-technological model, which fully fits into the program of national industry development adopted by the Government of India.
As part of the upcoming tender, Russia has offered India a Lada-class submarine which is an export version of the Amur-1650 with an air-independent power plant. This DEPL can be equipped with BraMos missile systems.
Execution of the contract for the supply of the S-400 Triumph anti-aircraft missile system to India is generally on schedule. Delivery is scheduled to begin by the end of 2021.
Experts believe that it is too early to talk about the direct impact of the decisions made in New Delhi on Russian-Indian military-technical cooperation.
Modi has struggled to transform the world's second biggest arms importer into a defense manufacturing powerhouse since a 2014 proposal to produce indigenous equipment and systems worth $100 billion by 2020. The target has since been slashed in half and the deadline extended to 2027, while the need for more advanced weaponry grows more urgent following the most deadly border clash with China in four decades.
Similar policy declarations to stem imports were made by India in 2013, under then Prime Minister Manmohan Singh, and also by Modi's administration in his first term in 2018, did not significantly increase the 'Made in India' products deployed by the military. The banned list is also vague on the position of joint-ventures between Indian and foreign manufacturers and license produced weapon systems.
– How about military cooperation with the United States? Will the decision of the Indian authorities to ban the import of certain weapons affect military cooperation with the United States?
– With the United States, India has just begun its defense cooperation. In comparison to Russia, US were not the traditional arms supplier of India. During the height of the cold war India relied heavily on Soviet Union for military equipment. US have just entered as one of the new suppliers of arms besides France, Israel and some other European countries. Though recently, China's rise and assertive behavior in the Indo-Pacific Region as demonstrated most recently by the June 15 clashes between Chinese and Indian troops in the Galwan Valley region has contributed to a strategic convergence between the United States and India.
India is gearing up to ramp up its capacity to meet threats to its security and territorial integrity.
From 2008 through the end of 2016, U.S.-India defense trade increased from roughly $1 billion to over $15 billion dollars. This has included Indian procurement of thirteen C-130 Hercules aircraft from Lockheed Martin; ten C-17 Globemaster and twelve P-8 Poseidon aircraft from Boeing; as well as twenty-two AH-64 Apache and fifteen CH-47 Chinook helicopters.
Exports of American weapons to India from 2013 to 2017 increased 557% over the previous five-year period. American arms sales to India currently stand around $18 billion, and could climb after the approval of a deal on Wednesday to allow India to buy $1 billion worth of naval guns and ammunition as per the Stockholm International Peace Research Institute.
The deal with the United States was only a start up in compared to with the Soviet/Russian deal. Yes to an extent along with other partner countries the deal will also be affected with the United States after this Indian decision of arms import embargo.
– Russian proposals were sent to the Indian side for joint work in the field of creating submarines of project 75I, implying a full cycle of technological partnership. How do you assess the possibilities of such cooperation between the two countries?
– India is looking for submarines that can stay underwater for weeks and can be stealthy too. This is possible with the new air-independent propulsion (AIP) technology that can generate oxygen from on-board fuel. India needs 6 such submarines, categorised as Project 75I. As per one report, L&T likely to tie up with Russia's Rubin Design Bureau MDL likely to choose French Naval Group, also in talks with German's TKMS. If things go as per plan, the first Indian-built AIP submarine could be ready for commissioning by 2027.
Moscow has offered to build six Project-75I diesel-electric submarines worth $6.6 billion which is equal to INR 450 billion jointly with India and integrate the BrahMos missile systems into them in lieu of licensed production of the submersibles.
India announced a tender for the purchase of six Project-75I class diesel-electric submarines armed with land attack and anti-ship cruise missiles for $6.5 billion. The procurement was approved by the Defense Acquisition Council (DAC) in January 2019, although it's been in the works since 2007. All six submarines under this project will be built in India by the selected Indian Strategic Partner in collaboration with OEM selected by the government. In addition, Indian Navy should have the option to manufacture six more submarines under the project.
In the case of Project 75(I), offset is said to be over 30 per cent of contract value. Meeting this requirement is quite a challenge. And yet, the Russian bidder the Amur 1650 is officially offered by Rosoboronexport state arms vendor is optimistic about it.
The Russians appear more amenable to transferring some technologies to India, even to making in India.
During Defence Minister Singh's recent visit to Moscow and St. Petersburg, there was agreement on setting up working groups for after sales support of specific weapons and platforms. The Russians may set up warehouses in India stocked with spare parts and components to ensure ready supply to the Indian military. Russian OEMs are expected to partner with Indian firms to make spare parts.
Given the capabilities especially in the private sector navy's Project 75i cannot, in the context of nuclear submarine building wherewithal in country, be permitted to import other than the design and certain highly specialized technologies, such as mast optronics from competing submarine builders.
– India invites Russia to participate in the implementation of the concept of the Indo-Pacific Region. Is it about creating an anti-Chinese coalition?
– The Indo-Pacific initiative is a strategic grouping, seen largely as an attempt to counter China. New Delhi believes that if Russia joins the Indo-Pacific framework, it will no longer be seen as a grouping that is led by the US, something that Moscow has been protesting for long. India has reportedly told Russia that just as New Delhi supports Moscow's Greater Eurasia, it should also join hands under the rubric of Indo-Pacific, and not see this merely as the US' divisive strategy.
While Russia may not be quick to adopt the term with leaders like President Putin continuing to use the term Asia-Pacific its invitation of Prime Minister Modi as the EEF's chief guest is an acknowledgement of the confluence of the Indian and Pacific oceans. This provides a new vision for the India-Russia partnership. It could also help mitigate the strategic and political divergence that several commentators have highlighted in recent years particularly Russia's partnership with China and India's with the West.
In recent years, the 'Indo-Pacific' has permeated the geo-strategic lexicon. What was initially a maritime construct centered on the economic and connectivity of the two oceans have now has acquired a more political and security dimension. Accordingly, a contest is emerging over how to define Asia conceptually, including the choice of terminology. The increasing use of the term Indo-Pacific carries implications for the way countries approach security competition or cooperation in maritime Asia.
Russia has traditionally been a land power with a relatively minimal role in maritime politics compared to countries like the United States and Great Britain. However, in recent years, Russia has become increasingly vocal about its vision for the Indo-Pacific region, culminating in its outright rejection of the term at the recently concluded Raisina dialogue.
The Russians have a different geo-strategic outlook, effectively rejecting the Indo-Pacific geopolitical construct, a system which they believe supports the interests of the United States and its key allies.
Nevertheless, Moscow is accelerating efforts to develop regional political and security frameworks that would suit its long-term agendas based on both bilateral strategic partnerships and engagement with regional frameworks.
The Indian vision has been expressed differently, with the top leadership clearly noting that it is not directed against any country with a reiteration of ASEAN centrality. It is instead looking to manage China's political expansion while benefitting from it economically and has thus refrained from making the Indo-Pacific articulation the sole fulcrum of its policy towards China. Geographically, India sees the region as stretching from from the shores of Africa to that of the Americas. Russia will hence find that the 'Indo-Pacific', in which India remains a central figure, will continue to strengthen and multilateralise. Rather than bandwagoning with the US, the regional players are in fact leading and shaping the security architecture of the region themselves.