24 апреля 2019 г. 14:37
Seoul hopes to establish FTA with the countries of the Eurasian Economic Union – South Korean expert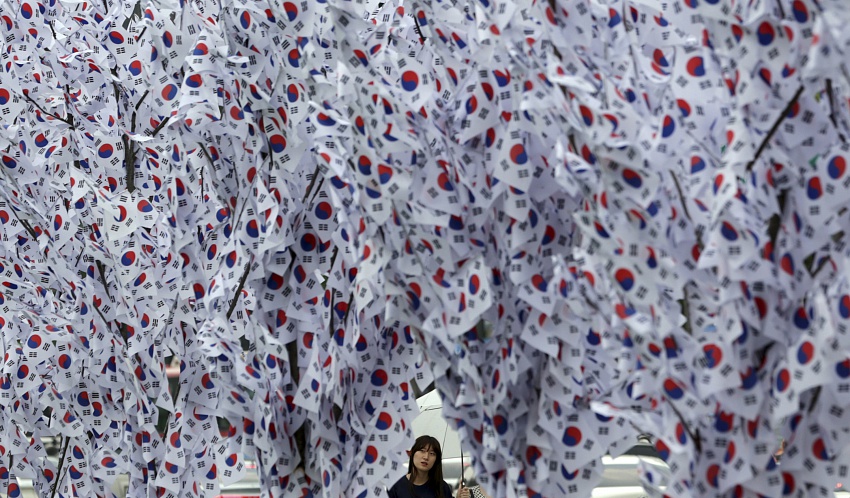 In mid-april South Korean President Moon Jae-in visited three countries in Central Asia – Turkmenistan, Uzbekistan and Kazakhstan, signing many multy-billlion-dollar contracts. Strengthening relations with the region is a part of Seoul's New Northern Policy, the ultimate goal of which is to engage and denuclearize North Korea. Senior Research Fellow and Project Manager of the Korean Peninsula Project at the Institute for Security and Development Policy Dr. Sangsoo Lee told "Eurasia.Expert" the details of President Moon Jae-in's tour and explained why South Korea prefers bilateral format in dealing with Central Asian countries.
- Mr. Lee, South Korean President Moon Jain makes a tour of the countries of Central Asia. He visited Turkmenistan, Uzbekistan. Tomorrow will visit Kazakhstan. What caused such an increased interest in the region of Central Asia? What are the objectives of the visit of the South Korean Peninsula?

- The recent South Korean President Moon Jae-in's trip to three major countries of Central Asia is a part of implementing the core value of Seoul's New Northern Policy, which is to strengthen the country's connectivity with the Northern part of Eurasian continent, including Russia, China, Mongolia and the countries of Central Asia. There are three main objectives of Moon's visit.
First, South Korea pursues to boost economic cooperation with the countries of Central Asia. Moon's visit will lead to enhanced cooperation between South Korea and three countries of Central Asia, as the parities agreed new joint projects in the areas of trade, healthcare, IT and energy resources that could be worth more than US$28 billion in total.
Second, Moon's visit is to gain their support for South Korea's peace process on the Korean Peninsula and its efforts to convince North Korea to denuclearize. Actually Seoul is interested in the Central Asian nation's experience in denuclearization. As an example, Kazakhstan rejected possession of nuclear weapons and also the world's largest nuclear testing zone in Semipalatinsk that allowed the country to obtain security guarantees from major nuclear powers and initiate economic development.
South Korea wants to promote Kazakhstan model for the Korean Peninsula.
Third, the cooperation in the energy sector with countries in Eurasia is one of priorities for Moon's visit this time. Turkmenistan has rich natural gas resource but it has pushed to develop its non-fossil fuels sectors. South Korean-based energy companies are interested in importing natural gas from the region, while providing renewable energy technologies. The two countries agreed to review of the implementation of joint energy projects in Turkmenistan in the near future. It includes the gas processing plant at Galkynysh field and petrochemical complex for polymers production in Kiaynly.
- How do you assess the current level of trade and economic ties between South Korea and the countries of Central Asia?
- South Korea is one of the leading trade, economic and investment partners of Uzbekistan. The annual mutual trade turnover exceeds $ 1 billion, and the volume of attracted investments is $ 7 billion in 2018. The Uzbek president proposed launching various new projects in the industrial plant, power plant, hospital, transportation, infrastructure and education sectors that are worth $12 billion. Bilateral trade between South Korea and Kazakhstan came to US$2.2 billion in 2018. The countries have already agreed to seek joint development projects worth $12 billion total. Meanwhile, South Korean firms jointly have a 71.2 percent stake in the US$30 billion construction of the Kiyanly plant in Turkmenistan, the country's first petrochemical plant.
- With which countries is South Korea most cooperating in Central Asia? As far as I know, these are Uzbekistan and Kazakhstan. In which areas is South Korea cooperating and would like to cooperate with these countries? What areas does South Korea show great interest in?
- Uzbekistan's share in South Korea's trade with all countries of Central Asia is almost 50%, meanwhile Kazakhstan the largest trading partner of South Korea in Central Asia. In general, the countries of Central Asia have rich natural resources, developing industrial and transport infrastructure and agrarian sector while South Korea has modern technologies, car industry and electronic productions. Seoul's key import items from Central Asia include crude oil and gas while it exports cars, machinery and television sets to the region. The Uzbek medical industry seeks to incorporate Korea's digital health care, which features cutting-edge medical services and information and communications technology. In Kazakhstan, big Korean firms such as Samsung and LG groups, Hyundai Motor, POSCO and Korea National Oil Corp have partnerships with the local companies. These companies are participating in various sectors, such as engineering, machinery, health care, education and construction. During Moon's visit, Uzbekistan proposed new projects worth $12 billion while Kazakhstan proposed $3.2 billion worth of new projects.
- As practice shows, the interaction of South Korea with the countries of the region is at the level of bilateral relations. And the multilateral mechanism in the form of "5 + 1" (5 countries of Central Asia + South Korea) remains extremely ineffective. Why? What do you see as the reason for the non-development of a multilateral cooperation format?
- I think South Korea has promoted economic cooperation with the countries of Central Asia at the level of bilateral relations. 5+1 framework makes the countries of Central Asia one strong voice toward South Korea which could undermine Seoul's political position when making deals with the region.
Therefore, Seoul expects to create a certain level of competition among 5 countries of Central Asia which facilitates South Korea to gain political and economic benefits.
- In your opinion, is it possible to create free trade zones between South Korea and the countries of the Eurasian Economic Union? (As far as I remember, there was talk about it before).
- South Korea is a country with export-oriented economy, as well as its trade is heavily dependent on China and the United States. So the policy of diversifying trade relations is so important for it.
I think that Seoul hopes to establish FTA with Russia and the countries of the Eurasian Economic Union that helps South Korea diversify its trade partners.
South Korean firms can enjoy price competitiveness in the EAEU region if a trade deal is reached. Furthermore, this move has been accelerated by uncertainty over the future of the U.S. and South Korea FTA with Trump's America first policy. For Russia's parts, the increase of economic cooperation with South Korea contributes to push its 'turns into the East' policy and boost the economy in the Far East region.
- As you know, the administration of the new Korean President, Moon Jae-in, initiated a new program, called the New Northern Policy. What is the essence of this program? Tell in detail about this program
- The New Northern Policy aimed to build closed relations with China, Russia, Mongolia and other countries of Central Asia through economic cooperation to eventually expand the cooperation to North Korea.
A key purpose of the New Northern Policy is to engage in North Korea.
The South Korean government believes that the best way to guarantee long-term peace and stability in the Korean Peninsula is by making North Korea part of international trade networks with the connection of Eurasian railway and energy grid. So the initiative will provide an alternative option, such as economic development for North Korea to give up its nuclear weapon and it will ultimately contribute to laying the groundwork for promoting prosperity and peace on the Korean Peninsula.
Furthermore, the New Northern Policy is designed as a long-term plan regardless of the short-term vagaries of North Korean issues. The recent ROK's engagement with Central Asia is a part of this long-term plan to implement its middle power diplomacy by utilize South Korea's recent modernization experience. The lessons of South Korea's rapid economic growth and democratization can provide important guidance for the Central Asian region.