10 октября 2018 г. 13:49
After the S-400 deal India is planning to add Russian-made warships to its navy – Indian expert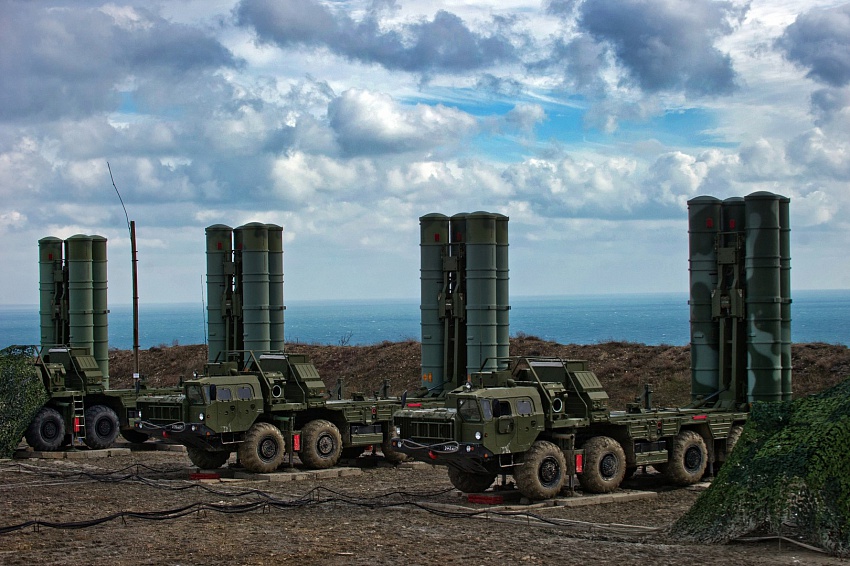 Last week President of Russia Vladimir Putin and Prime-Minister of India Narendra Modi signed a $5 billion S-400 deal. India is not afraid of the possible US sanctions for this decision and plans to add four Russian warships to its navy – says Research Fellow at the Indian Council of World Affairs (ICWA) Ashish Shukla. In an interview for "Eurasia.Expert" the political scientist explained what India gained from the S-400 deal, why it is not afraid of the sanctions and how it is going to strengthen its military power in the nearest future.
- Moscow and New Delhi signed an agreement on the supply of five regiments of anti-aircraft missile systems (SAM) S-400 to India. The agreement was signed during the visit of Russian President Vladimir Putin to this country. The amount of the transaction is more than $ 5 billion. How do you rate this deal? Why was India so interested in buying the C-400? What will it give to India?
- The agreement between India and Russia regarding S-400 is one of the best arms deal signed by India in recent times. It is a timely deal to give a much needed boost to India-Russia friendship. The S-400 Triumph Air Defence System is one of the most lethal weapon systems in that world that offers four different types of layered air defence. It is equipped to destroy all kinds of air attacks with precision. With this system at its disposal, India can protect its vital national institutions, R&D facilities and important military installations. In a fast changing geo-strategic environment, a country like India needed to have state of the art missile defence system and S-400 fits well for the purpose.
- India went to the conclusion of the transaction contrary to the recommendations of Washington. In your opinion, why did India ignore the recommendations of the United States? What will happen to the US and India now? What are the challenges now facing India?
- A nation of 135 billion hardworking people does not need to take "recommendations" from any other country. Ever since its Independence, India has been maintaining strategic autonomy in its foreign policy making and this is an inalienable part of India's foreign policy as well as overall strategic thinking. India takes a call on the basis of its own national interest and merit of the issue. Had India followed US "recommendation" in this case, it would have compromised its independent foreign policy. There is not much one could do about this. India does not fear sanctions, as long as the act (for which it could be sanctioned) serves its national interest. India did not fear sanctions when it went overtly nuclear in 1998. In the present geo-political and geo-strategic environment, it would not be easy for US administration to sanction India under CAATSA. There are already some thoughts of giving India a Presidential waiver. It is up to the Trump Administration to decide whether it wants to annoy India with sanctions or not!
To my mind, there would not be any sanction. The geo-political and geo-strategic environment is such that US administration would think thousand times before imposing any kind of sanction on India. In case it does, India is prepared to deal with that.
- As far as I know, India is interested in naval technology, the effectiveness of which has been proven, including during the fighting in Syria….
- India's strategic location requires it to have a strong navy so that it could protect its vital national interests. A large chunk of India's trade with outside world, especially oil imports, passes through the great Indian Ocean which has several choke points. Given the importance of Indian Ocean, India would do anything and everything to make sure that sea-lanes are always open and there is no threat to its core interests in the region.
In recent times, China too has shown interests to strengthen its presence in the Indian Ocean. It has helped Pakistan build Gwadar port in the Balochistan province and there are concerns that it intends to use the port for purposes other than economic and trade. In such a scenario, India cannot afford to ignore its naval capabilities.
Thus, it is focusing on strengthening its naval forces with the help of modern technologies and state of the art equipment and systems.
It is in the above context, India is planning to add four new warships to its navy. Out of these four, two will be brought directly from Russia and two will be built in Goa shipyard. The advanced Talwar Class Frigates or project 11356 is a long pending deal between India and Russia which is now again in the news.
- It became known that India is considering the possibility of purchasing 1,770 advanced combat vehicles (FRCV) to replace aging military equipment, in particular T-72 tanks. It is assumed that the choice will fall on the Russian tank T-14 "Armata". Please tell us about it. What Russian weapons are still of interest to India?
- India has been using Russian T-72 and T-90 as its Main Battle Tanks (MBT) for decades. The Russian supplied T-72 was induced in mid 1980s and since then these machines are in service. In recent past, there was a demand of replacing T-72 with modern state of the art machine. Indeed, in 2015, the idea of replacing T-72 with Future Ready Combat Vehicle (FRCV) gained momentum and a Request for Information (RFI) was issued. Since then India has been working on it and as per the latest information, Indian Army has invited proposals from domestic and foreign firms to design FRCV for it. The decision in this regard will be taken after giving due considerations. These FRCVs are expected to be used in the battlefield for "rapid dominance."
- The US Department of State predicts an increase in military cooperation with India to $ 18 billion in 2019. What do you think about it? What does the USA supply India? What is the amount of military cooperation between the countries today?
- The two countries have recently concluded an agreement to enhance communications sharing on defence platforms which is called "Communications Compatibility and Security Agreements." This has resulted in India joining a group of some 30 countries that align their military communications with the America.
The defence cooperation between the two countries is growing and in India it is considered as a good sign as long as it fulfills Indian aspirations in procuring state of the art defence systems and technology without compromising its strategic autonomy. Putting an exact figure and list of supplies is difficult to provide at this stage. It would be suffice to say that the cooperation is strengthening.