10 декабря 2019 г. 18:16
The Growing Conviction in China is That Trump is Not Trustworthy – China Expert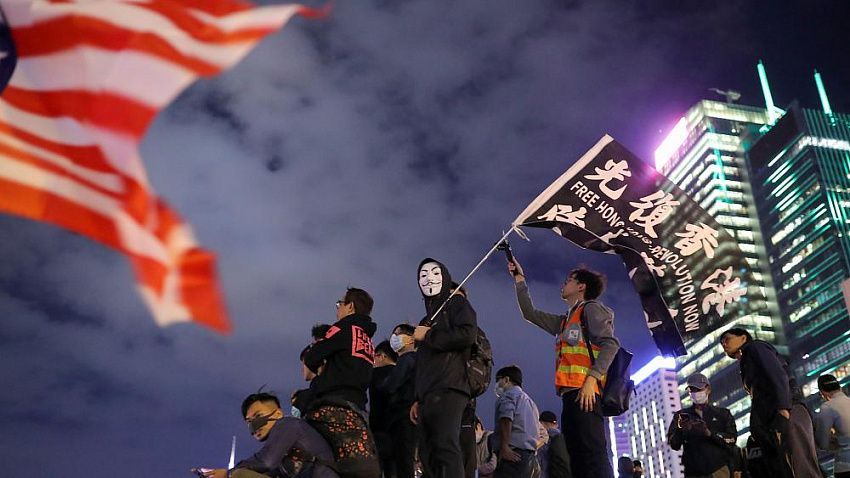 The fate of China-United States trade negotiations remains uncertain. The term for concluding a deal in Washington is said to be in the near future on one day, or after the 2020 US presidential election on another. Washington's policy towards protests in Hong Kong and Xinjiang is not conducive to understanding between the parties. On December 2, China imposed sanctions on the United States in response to the adoption of laws relating to human rights in Hong Kong. The approach that Beijing intends to use to resolve the situation, and how it will affect Sino-US relations, Eurasia.Expert has discussed with Zhiqun Zhu, Professor of Political Science and International Relations at Bucknell University (USA).
– On November 27, 2019, US President Donald Trump signed two bills into law regarding the situation in Hong Kong. Why did Trump sign these legislations? What do you think about his way of dealing with that situation?
– The Trump administration and US Congress have stood by Hong Kong protestors from the very beginning. It is not surprising that President Trump signed into law the two bills – Hong Kong Human Rights and Democracy Act, which will, among other mandates, allow the United States to suspend Hong Kong's special trading status based on an annual certification by the US State Department, and the Protect Hong Kong Act, which will prohibit the sale of US-made munitions such as tear gas and rubber bullets to the city's police.
The bills passed both houses of Congress nearly unanimously. President Trump could have vetoed them, but this would easily be overturned by Congress. He could have also decided not to sign them to avoid offending the Chinese, but in that case, he would face harsh criticism from Congress, and without his signatures the two bills would become law anyway 10 days after they were presented to him.
Compared with Congress, President Trump has kept a low profile regarding the Hong Kong situation, hoping that the problems there could be solved peacefully. Despite his «friendship» with Chinese President Xi Jinping, at the end of the day, it is domestic politics, including the ongoing impeachment hearings at Congress and the upcoming presidential election that compelled Trump to work with Congress and sign these legislations.
– China threatened Trump with a «tough response» to the Hong Kong Human Rights and Democracy Act. What can China do in retaliation?
– As expected, the Chinese Foreign Ministry immediately blasted the new laws as a «stark hegemonic practice and a severe interference in China's internal affairs» and vowed retaliation. Beijing also accused the United States of sending the wrong message to people in Hong Kong and elsewhere since neither Trump nor US Congress condemned the violent acts committed by some radical protestors in Hong Kong.
On December 2, 2019, China announced suspension of US warships' visits to Hong Kong, a popular destination for US sailors for rest and recuperation. China also announced sanctions of five American NGOs that had allegedly been supporting Hong Kong protestors: The National Endowment for Democracy, the National Democratic Institute for International Affairs, the International Republican Institute, Human Rights Watch, and Freedom House. There were no specific details on how these NGOs would be punished.
Such responses may sound tough, but really do not hurt the US government or Congress at all. They are more likely designed to pacify growing nationalism inside China.
It is unclear what other measures China may take in retaliation. Indeed, China does not seem to have many cards to play vis-à-vis the United States.
– How will Trump's signing of the bills affect trade negotiations between Washington and Beijing?
– It will complicate the trade negotiations. Both sides have given confusing signals about the trade negotiations. Sometimes they claim they are very close to reaching a deal, and sometimes they say it may take a while. At one point, US Treasury Secretary Steven Mnuchin said «we are about 90% of the way» on a deal with China, then on December 3, 2019, while attending a NATO summit in London, President Trump said the deal might not be signed until after the November 2020 US presidential election.
Beijing has reportedly insisted that the US must lift all tariffs before a comprehensive trade agreement can be signed. Apparently, China is not in a hurry to strike a deal with Trump since it is not sure whether Trump will be re-elected. The general feeling in Beijing is that Trump flip-flops frequently and is not trustworthy.
Trump's signing of the two Hong Kong-related bills will serve as another disincentive for Beijing to negotiate a deal with the US soon. The trade negotiations are likely to be stalled for a while before the two sides decide to return to the negotiation table.
– What's the impact of Hong Kong protests on Taiwan?
– Simply put, Hong Kong's protests are a huge boon to the Democratic Progressive Party (DPP) in Taiwan, which favors Taiwan's de jure independence from China.
Taiwan will have its presidential election in January 2020. Tsai Ing-wen, the incumbent from the DPP, is seeking reelection. She has had lackluster performance since taking office in 2016, and in early 2019 before the Hong Kong protests started, her approval rating was so low (15%) that many wondered whether she had a chance to be nominated by her party.
The Hong Kong protests evidently injected new life into her campaign and Tsai has projected herself as the candidate who could defend Taiwan's democracy and freedom.
Just weeks before the 2020 election, most polls suggest that Tsai is leading her opponent, KMT's Han Kuo-yu, by a big margin. Han was elected mayor of Kaohsiung, a stronghold of the DPP, at local elections in November 2018, creating a «Han wave» across Taiwan. It was clear then that voters were unhappy with the DPP. But now, it seems Han needs some miracle to help him unseat Tsai.
More importantly, most Taiwanese look at the Hong Kong turmoil as evidence that the "one country, two systems" policy has failed. This is a big blow to Beijing's efforts to win hearts and minds of the Taiwanese people. In other words, as a result of the Hong Kong protests, Taiwan has moved further away from China and China's ambition to reunify with Taiwan has become more remote.
– If the United States deprive Hong Kong of the special trade status, as one of the new laws provides, US businesses will lose from it, analysts warn. What is your opinion on this?
– Indeed, the United States will not gain anything from depriving Hong Kong of the special trade status other than making the Hong Kong government and Beijing look bad. It will be Hong Kong's businesses and people as well as foreign businesses in Hong Kong, including US businesses that will suffer if such a special trade status is revoked by the US government.
From an economic perspective, the US threat to deprive Hong Kong of the special trade status does not make much sense. Though Hong Kong remains a major financial center for China, its importance has declined over the years.
In 1997 when Hong Kong was reverted to China, its GDP was about 18% of China's total. Today, it's only about 2.7%, and the neighboring Shenzhen, which was a just small finishing village before 1980 when it became a special economic zone, has a larger GDP than Hong Kong. Hong Kong is also facing stiff competition from regional financial centers such as Singapore and Shanghai. It is hard to understand how removing Hong Kong's special trade status would help Hong Kong's democracy while punishing China.
– Local council elections were held in Hong Kong on November 24, 2019 and the opposition won in most districts. What is your take on the election result?
– It's certainly a victory for opposition or pro-democracy candidates, and Beijing probably did not expect such a result. Nearly three million Hong Kong residents voted, equivalent to 71% of registered voters, which was a record turnout in the electoral history of Hong Kong. Some even call it a de facto referendum on what Hong Kong people want.
As protests drag on in Hong Kong, Beijing will have to respond to the protestors' major demands, especially universal suffrage for electing the Chief Executive and the Legislative Council members. Beijing must work with the Hong Kong government to map out a specific plan and timetable to introduce free elections in the special administrative region. Is Beijing ready? How Beijing will reestablish trust with the Hong Kong people remains to be seen.
– What is the future of «one country, two systems» policy?
– The «one country, two systems» policy was originally proposed by Deng Xiaoping in the 1980s as a way to attract Taiwan to be reunified with China. It has been practiced in Hong Kong since 1997. Both Hong Kong and Taiwan are former colonies and have developed distinct political cultures from the Chinese mainland. «One country, two systems» was an innovative way to incorporate Hong Kong into the Chinese sovereignty while maintaining the city's unique system and culture.
By all indications, the «one country, two systems» policy is likely to remain in place in Hong Kong. One can argue that the problem is not with the policy itself but with implementation.
Beijing still seems committed to this policy. The fact that Hong Kong's local council elections in November 2019 were held smoothly in the midst of protests without interference from Beijing is a good omen. It is indeed in China's interest to maintain the «one country, two systems» policy so as to keep Hong Kong's unique status, to enhance China's international image, and more importantly, to create an attractive model for Taiwan. Since «one country, two systems» is very unpopular in Taiwan now, it is crucial for Beijing to ensure the policy's successful implementation in Hong Kong.
However, there are also hawks in China who argue that China is powerful enough now, if people in Hong Kong or Taiwan do not like «one country, two systems», then let's have «one country, one system» under the PRC leadership. Fortunately, this is not the mainstream thinking in Beijing.
Похожие материалы

Комментарии
9439||http://eurasia.expert:443/the-growing-conviction-in-china-is-that-trump-is-not-trustworthy-chinese-expert/